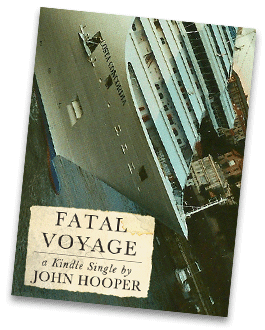 Sometimes life takes you in a long, wide arc back to somewhere you thought you had long ago consigned to memory.
I have always been fascinated by the sea. I grew up in a port and at age 18, on my very earliest visit to Italy, I was asked by an opera singer to skipper his powerboat. The first trip was to be round the island of Giglio. I botched it hopelessly, and was sacked on our return to Porto Ercole.
Scroll forward many years to the morning of January 14th, 2012. I am in bed with a bout of 'flu when I am woken up to be told that there has been a shipwreck in the night off the Tuscan coast. The 'flu is soon forgotten as I drive at breakneck and doubtless illegal speeds up the Via Aurelia to get to Porto Santo Stefano where the survivors are being ferried ashore.
The next day, I hitched a ride on a Coast Guard patrol boat to Giglio and was on the rocks, 70 metres from the stricken Costa Concordia, when the last survivor to be rescued alive was winched out on a stretcher.
When Amazon asked me to write an account of the disaster, I leapt at the chance to tell in full a story that brims with suspense, tragedy – and no little mystery.