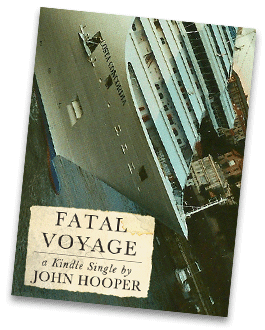 The Wrecking of the Costa Concordia
Fatal Voyage — written for Amazon's Kindle Singles collection – describes what happened when Captain Francesco Schettino took a 114,000-ton liner laden with more 4,000 passengers and crew to within a few hundred yards of a jagged Mediterranean shoreline on January 13th, 2012.
Writing in the New York Times, Dwight Garner said it was among the Kindle Singles 'so good they awaken you to the promise of what feels almost like a new genre: long enough for genuine complexity, short enough that you don't need journalistic starches and fillers.'
The Costa Concordia, which capsized in the centenary year of the sinking of the Titanic, was the biggest passenger ship ever to be wrecked. Fatal Voyage is an enthralling — and terrifying — chronicle of a disaster in which 34 people lost their lives. Focussing on the experiences of one Californian family, it brings to life the horrific reality of what it was like to be trapped aboard the listing, crippled liner. It also looks at some of the questions raised by the wrecking of the huge ship, from why its plight was not noticed sooner to who was ultimately responsible.
Fatal Voyage is a tale of confusion and panic, but also of courage and endurance. And it shows that some of the issues surrounding the Titanic disaster are as relevant today as they were in 1912.
Described by Garner as 'equal parts thriller and elegy', Fatal Voyage climbed to no.2 on Amazon.com's Kindle Singles best-seller list.